Continuous elevators are used to transport a wide range of parcel goods from for instance one floor to another floor. They are used in conveying systems whereby goods have to be conveyed to a higher level with 90 degrees inclination. Capacities amount to approx. 3.000 pc/h at a belt speeds of up to 0,7 m/sec.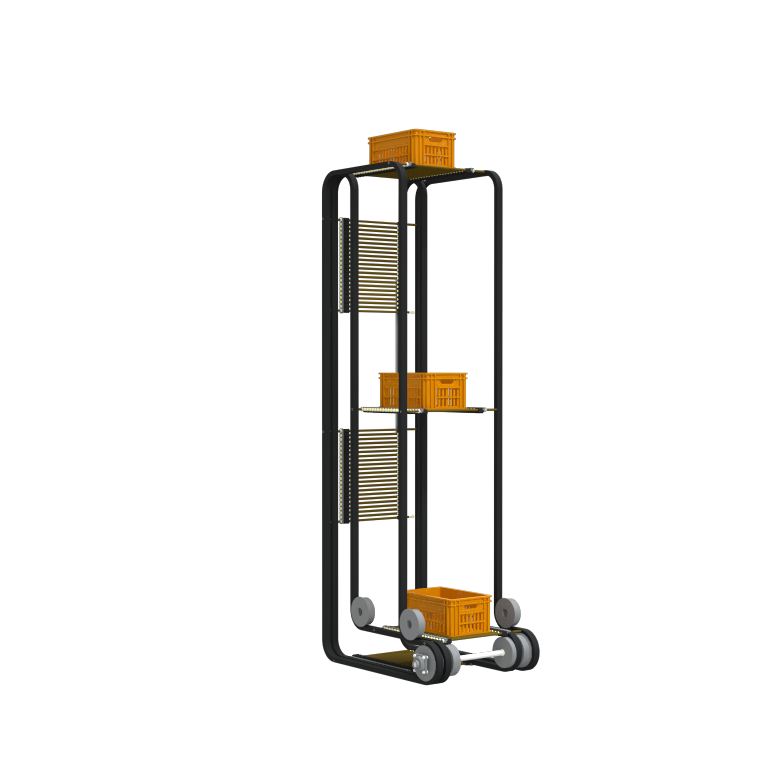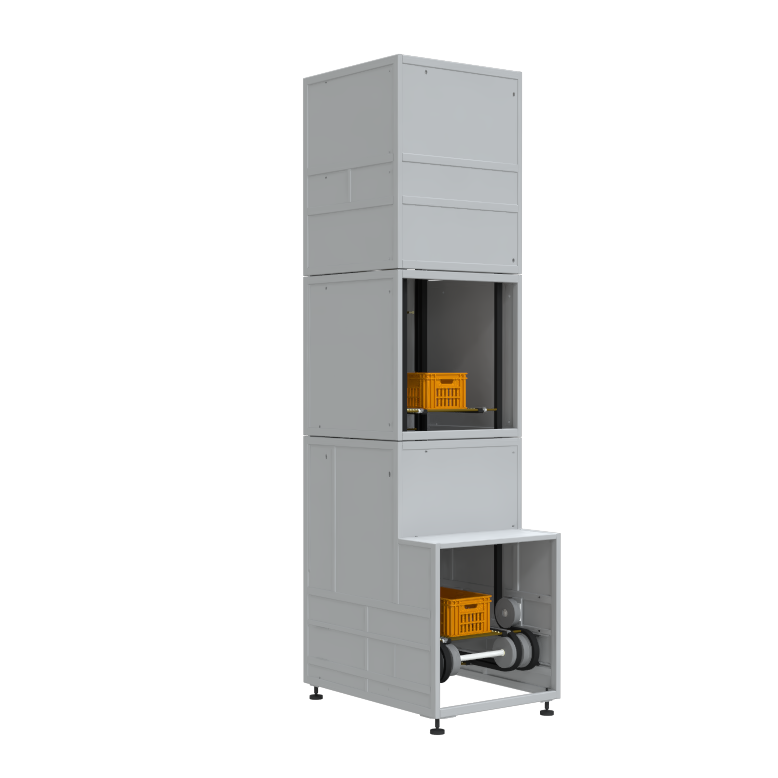 Specifications
Standard construction made of prefabricated aluminium elements with access doors in the lower part for inspection and maintenance. These elevators are available in 2 types: "S" construction "C" construction The difference between these two types is, that the "S" elevators are loaded on one side and discharge on the other side, whereas the "C" elevator loads and unloads on the same side. Other constructions available : Painted steel elements Galvanized iron elements Stainless-steel constructions Special stainless-steel construction made of stainless-steel elements for application in meat-processing industry to transport piled crates with a height of 1.700 mm and a weight of 170 kg over a vertical distance of 8.000 mm. The platforms are chosen on the basis of the product to be elevated. In combination with rubber block chains, synthetic wheels and stainless-steel shafts they form a non-corrosive innerwork of the elevator and guarantee a noiseless and maintenance-free conveying medium.
Some specific advantages of these elevators :
Explosion-safe and noiseless (<65 dBa)
Because of the rubber chain (with invulcanised steel cable) the elongation of the chain is almost nil
No sagging of the platforms because of special construction
High capacities of up to 3.000 pieces/hour
Nearly maintenance free
Long service life
Entire innerwork, like rubber block chains, wheels and platforms, made of non-corrosive materials
Solid construction.
Applications of our piece-good elevators, all kinds of piece goods in a wide range of industries, either packed or not in/on :
Crates
Boxes
Bags
Trays
Containers
Trolleys
Pallets
Etc.
"S"-CONSTRUCTION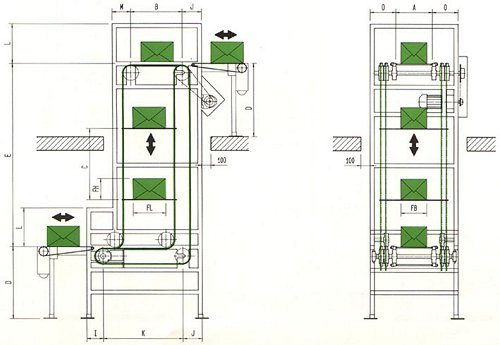 Loading

Light
up to 30 kg
Medium
up to 100 kg
Heavy
up to 500 kg
Type
S 169/32/33
S 253/50/33
S 316/50/43
A –  Platform width
200 – 1000
300 – 1500
600 – 2000
In steps of 100
B – Platform lenght
462, 561, 660, 759, 858, 957, 1056, 1155
731, 860, 989, 1118
In steps of 33
In steps of 43
C min. – Platform pitch
B + FH + 100
D – Transfer height
min. 400
min. 500
min. 600
E – Lifting height
…………..
FL – Length of transported items
Max. lenght of conveyed items
FB – Width of transported items
Max. width of conveyed items
FH – Height of transported items
Max. height of conveyed items
I
180
260
350
J
210
250
340
K
B + 250 appr.
B + 350 appr.
B + 450 appr.
Exact dimension from determination of dimensions B and E
L
FH + 150
M
204
250
340
O
281
330
445
"C"-CONSTRUCTION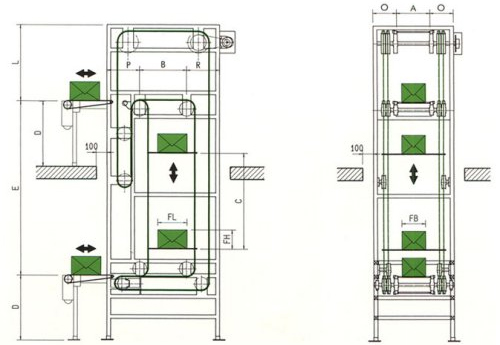 Type

SC 169/32/33
SC 253/50/33
A – Platform width
200 – 1000
In steps of 100
B – Platform length
462, 561, 660, 759, 858, 957, 1056, 1155
In steps of 33
C ca – Platform pitch
4 x B
D – Transfer height
min. 340
min. 500
E – Lifting heigmeht
………….
FL – length of transported items
Max. length of conveyed items
FB – Width of transported items
Max. width of conveyed items
FH – Height of transported items
Max. height of conveyed items
L
Construction measure
O
281
330
P
383
503
R
383
400