Continuous bucket elevators
In Holland, Internovi is the only company supplying this unique soundless solution for horizontal-vertical-horizontal conveying. Bucket elevators are used for the gentle transport of bulk materials in throughputs up to 200 m3/hour. The elevator consists of a closed bucket belt in which the buckets are interconnected by means of flexible connectors, so that spillage is reduced to a minimum. The bucket elevator transports materials from various in feed points to one central discharge point.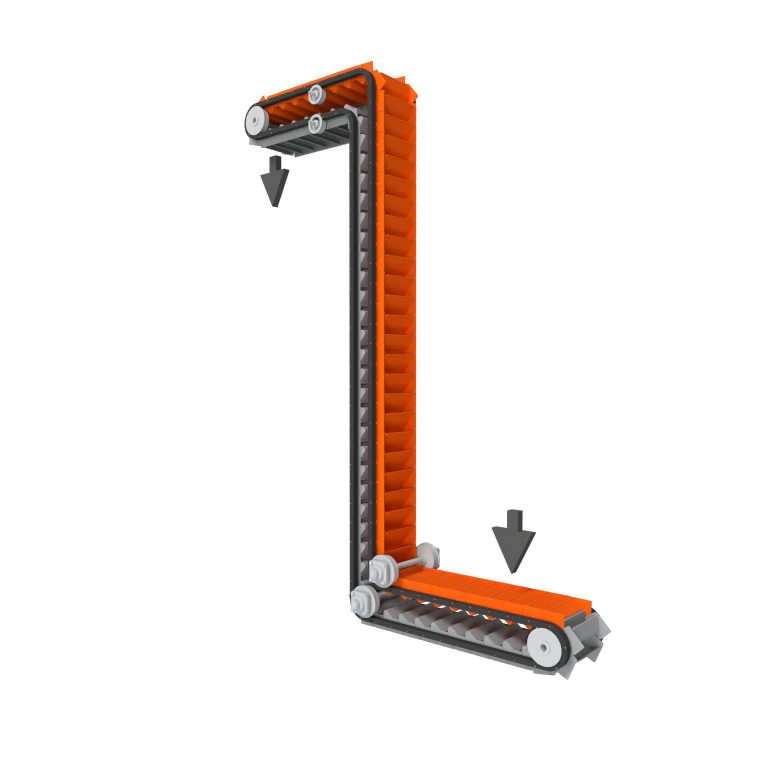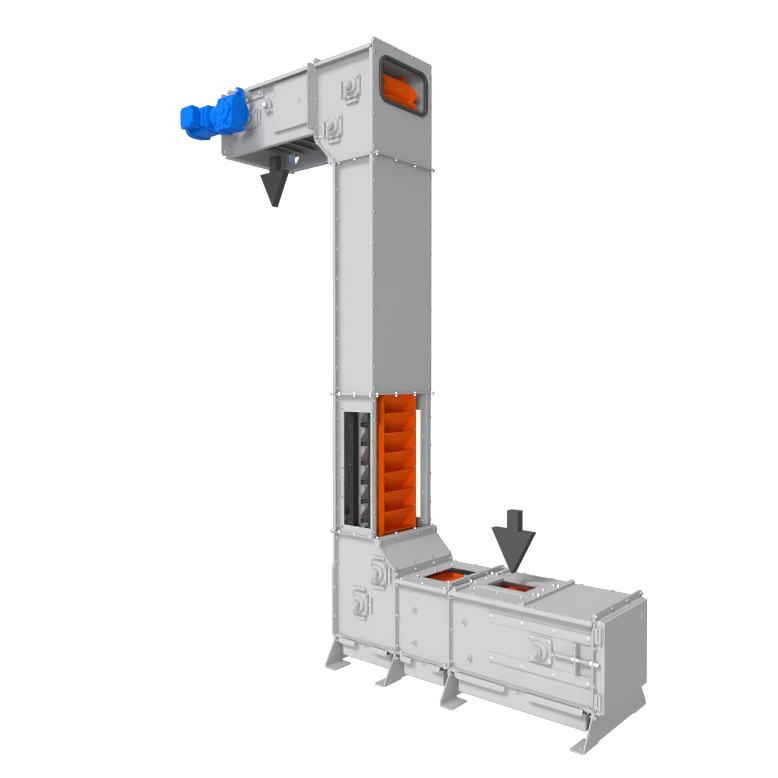 Specifications
Noteworthy are the rubber block chains with invulcanised steel wires, which ensures a very quiet running (at most 65 dBa). Standard design made from folded steel plate. The inner shaft smoothened in order to prevent waste product deposit. The shafts are provided with access doors for inspection and maintenance. The entire inner work is non-corrosive !!! Special designs f.e. made from special profiles with removable panels over the entire shaft length and smoothened outer sides.
Other designs are availabe, for instance:
Totally open
Food design HACCP, CIP etc.
Gasproof
Coldproof
Dustproof
Explosion-safe ATEX
Pressure resitant
Heat-resistant up to 220C
Stainless-steel AISI 304 (DIN material nr. 1.4301)
Acidproof (casing stainless-steel AISI 316 DIN material nr. 1.4401)
Some specific advantages of these elevators compared with conventional systems:
Explosion-safe and low noise-level (<65 dBa)
Nearly maintenance free
Long service life
Solid construction
The entire innerwork, such as the belt and the wheels, are made of non-corroding materials. The bucket belt consists of rubber chains in combination with connected PA buckets.
Because of the rubber block chain (invulcanised steel wires), the elongation of the chain is almost nil.
Gentle conveying of breakable goods
Spillage is reduced to a minimum because the buckets are interconnected by means of flexible connectors.
The wide buckets ensure a wide filling point
No guidings in the horizontal and vertical sections, where waste product might stay behind
Low energy consumption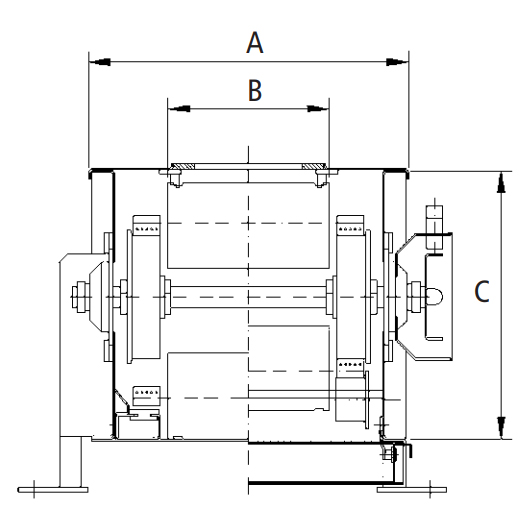 | | | | | | | | | | |
| --- | --- | --- | --- | --- | --- | --- | --- | --- | --- |
| TYPE | SEB 03 |  WB 130 |  WB 250 |  SEB 1 |  WB 300 |  SEB 2 | WB 370 |  SEB 5 | WB 640 |
| Capacity m³ | 5 | 6 | 10 | 15 | 20 | 25 | 45 | 50 | 100 |
| Bucket volume ltr | 0,3 | 0,36 | 0,7 | 1,7 | 2,1 | 3 | 4 | 6,5 | 11 |
| Dimensions A | 350 | 350 | 500 | 600 | 600 | 700 | 700 | 800 | 800 |
| Bucket width B | 120 | 130 | 250 | 205 | 300 | 270 | 370 | 375 | 640 |
| Dimensions C | 350 | 350 | 350 | 500 | 500 | 600 | 600 | 750 | 750 |